Welcome to my stop of Kristi Cook's Magnolia! A truly cute read with the right amount of family and swoon.
Check here for the schedule!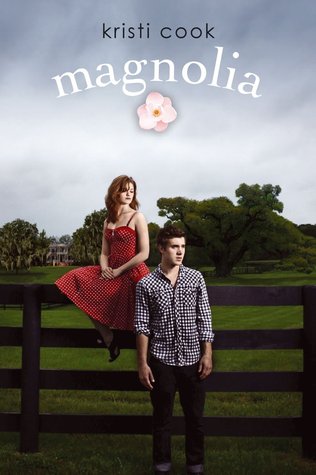 Magnolia
Author: Kristi Cook
Pages: 384
Publisher: Simon & Schuster
Publication Date: August 5, 2014
Kindle
|
Amazon
|
B&N
|
iTunes
|
Book Depository
In Magnolia Branch, Mississippi, the Cafferty and Marsden families are southern royalty. Neighbors since the Civil War, the families have shared vacations, holidays, backyard barbecues, and the overwhelming desire to unite their two clans by marriage. So when a baby boy and girl were born to the families at the same time, the perfect opportunity seemed to have finally arrived.
Jemma Cafferty and Ryder Marsden have no intention of giving in to their parents' wishes. They're only seventeen, for goodness' sake, not to mention that one little problem: They hate each other! Jemma can't stand Ryder's nauseating golden-boy persona, and Ryder would like nothing better than to pretend stubborn Jemma doesn't exist.
But when a violent storm ravages Magnolia Branch, it unearths Jemma's and Ryder's true feelings for each other as the two discover that the line between love and hate may be thin enough to risk crossing over.
Ever since, I've read the synopsis of Magnolia last year, I was beyond excited to read it. Literally, once I found out that I was part of the blog tour, there are no words to explain how happy I was. But the weird thing was that I was scared to read it. With some of my highly anticipated books such as Evertrue, The Last Forever and The Winner's Curse being disappointments, I was in no mood to read it. There were plenty of good reviews that were coming in and I was for sure that I was going to like it, but that was the same scenario with The Winner's Curse. However, I'm glad to say that Magnolia did not disappoint
at
all.
The beginning with Magnolia was sort of rocky for me as I didn't like how the characters were introduced as there was too many of them to keep track of, but as you keep reading, it no longer becomes a problem. Magnolia presents realistic teens with their constant bickering and typical swearing. Seeing Jemma's friends talk and react to each other hits home completely. Plenty of my friends talk the exact same way as they do such as the trash talking. Jemma's friends, Mason, Tanner and Ryder get into an argument about football and start throwing punches and in my head, I was like
YES
! Not that I was glad that they were fighting, but glad to read something that I have witnessed countless times.
Onto the main characters, Jemma and Ryder. Let me just say, I adored their transition to disliking each other and then slowly, unraveling each other's feelings for one another. I've had a quite a few laughs whenever Jemma and Ryder interacted with each other. Another element that I enjoyed was how their families were so close. Their mothers went to same school as each other. They were sorority sister and mutual maids of honor. They basically did everything together such as church, dinners and vacations. It was great reading this as I can relate to Jemma's and Ryder's situation
. I know, what's it like to pressured to be with your mom's best friend's son, however mine was less subtle than Jemma's and Ryder's. Reading this definitely made me wonder in the future if I will ever end up with him, but as right now, I'm shaking my head at that illusion. But, who knows, the future can be unpredictable.
Kristi Cook's Magnolia had me laughing wtih Jemma's and Ryder's constant bickering, crying with how beyond cute it was, and swooning with the one and only Ryder Marsden. Realistic portrayals of teen, the right amount of romance, Magnolia is the absolute perfect summer read.
About the Author:
As a child, Kristi Cook took her nose out of a book only long enough to take a ballet class (or five) each week. Not much has changed since then, except she's added motherhood to the mix and enjoys penning her own novels as much as reading everybody else's. A transplanted southern gal, Kristi lives in New York City with her husband and two daughters.

That's the official version–here are some other fun facts:
~ As an undergrad, I majored in History and minored in English at the University of Southern Mississippi. While at Southern Miss, I was a member of Phi Mu sorority, and I was a Dixie Darling. And yep, Brett Favre was our quarterback at the time!
~ I studied American History in grad school at Columbia University. I *love* history, especially the Civil War era (U.S.) and Regency- and Edwardian-era British history.
~ My all-time favorite book *and* movie is GONE WITH THE WIND. My favorite literary characters are Rhett Butler, Atticus Finch, and Mr. Darcy. I kind of want to add Peeta Mellark to that list!
~Weirdly enough (or maybe not so weirdly?) I'm also a big fan of STAR TREK (the original series). I never can remember if I'm supposed to call myself a "Trekkie" or a "Trekker," though!
a Rafflecopter giveaway