Welcome to my stop of Love & Other Theories! To follow the rest of the tour schedule, check
here
!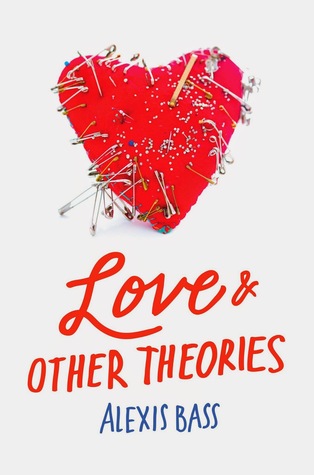 Love & Other Theories
Author: Alexis Bass
Publisher: HarperTeen
Publication Date: December 31 2014
Goodreads | Amazon | Book Depository | Barnes & Noble | iTunes | Kobo
If you want more, you have to give less.
That's the secret to dating in high school. By giving as little as they expect to get in return, seventeen-year-old Aubrey Housing and her three best friends have made it to the second semester of their senior year heartbreak-free. And it's all thanks to a few simple rules: don't commit, don't be needy, and don't give away your heart.
So when smoking-hot Nathan Diggs transfers to Lincoln High, it shouldn't be a big deal. At least that's what Aubrey tells herself. But Nathan's new-boy charm, his kindness, and his disarming honesty throw Aubrey off her game and put her in danger of breaking the most important rule of all: Don't fall in love.
"Warning: Bass's debut novel will ignite ALL your feelings!" - Wendy Higgins, New York Times bestselling author of the Sweet Evil trilogy
"I loved LOVE AND OTHER THEORIES. Alexis Bass writes a compelling critique of the ways society expects girls to behave in their relationships, the lies girls tell each other–and themselves–to keep from getting hurt, and, when all is said and done, how only the heart knows the truth." – Kristin Halbrook, author of Nobody But Us and co-founder of YA Highway
"Alexis Bass masterfully captures all the complexities of high school relationships. A lovely debut." – Amanda Maciel, author of Tease
"A bold debut that authentically captures the frenzy of love, lust, and senior year of high school!" - Julie Murphy, author of Side Effects May Vary
"Love and Other Theories challenged my assumptions, dared me to think differently and burrowed into my heart. A heart-achingly beautiful story about whether it is better to protect your heart or to take the biggest risk of all." - Daisy Whitney, author of The Mockingbirds
"In her debut novel, Bass provides honest, incisive, and sometimes uncomfortable insights into the complicated intersections of friendship and romance, the ways sex can be wielded as a weapon, and the measures some teens take to protect themselves from pain." — Publishers Weekly
"Bass's debut is an entertaining perspective on the battlefield of the teen dating world." —Voice of Youth Advocates (VOYA)
About the Author:
Alexis Bass grew up in Washington, went to college in Arizona, and spent her early twenties in Seattle. She currently lives in Northern California with Dylan McKay, her gorgeous and rambunctious golden retriever. She loves good fashion and good TV as much as a good book, and is a huge advocate of the three C's: coffee, chocolate, and cheese. LOVE AND OTHER THEORIES is her first novel.
Website | Goodreads | Twitter | Facebook | Pinterest | Tumblr
Giveaway!
Win a $30 Barnes & Noble Giftcard or Win (1) Book of your choice written by Wendy Higgins Or Kristin Halbrook Or Amanda Maciel Or Julie Murphy or Daisy Whitney (US Only)
a Rafflecopter giveaway
a Rafflecopter giveaway